I just finished watching the Presidential Inauguration of Donald J Trump, our 45th President of the United States. This was the first time in my life that I ever watched the inauguration of any President. And I must say, I was filled with such pride for the country I live in, watching the honor and respect between men and women, political parties, and past and present government officials who attended the ceremony. Whether you voted as a Democrat or Republican, whether for President Trump or not, we live in a time of urgency to unite as one nation under God. The enemy has been working overtime to divide our country for far too long and he's not planning on stopping any time soon. We must become a united front against the enemy of our soul! This begins in our homes, our communities, our schools, and our churches.
Yesterday, while praying for our country and over the inauguration, the Lord reminded me of a warning He gave me back in July 2016:
"Brace Yourself – Storms Are Coming!"
With the passing of the baton from President Obama to President Trump, many people in our great nation feel tremendous hope…hope that they haven't felt in years. I felt the Lord's reminder was that it will not be smooth sailing anytime soon and therefore, we must stay diligent and continue praying. We must unite as one nation under God…united in prayer, words, and actions. Jesus is our Rock, the Cornerstone on which the Church is built and He promises that the gates of hell shall not prevail against it.
Last month, while having my quiet time with God on the balcony overlooking the marina, waiting for the sun to rise, and enjoying my very hot cup of coffee  :), I had a vision soaring high above the clouds into the heavenlies hand-in-hand with Jesus. Next, as we walked together in the green lush valley surrounded by purple, blue mountains, I watched the sun rising and shining brightly on our faces. I began to run in a field of daisies, laughing and giggling and became like a child as I danced and twirled. Then, Jesus lifted me up on His shoulders to see from His perspective. We saw a blue jay and followed it across a vast body of water and then I saw fires — many fires and the blue jay flew over the land, turning into a fire bird — a Phoenix!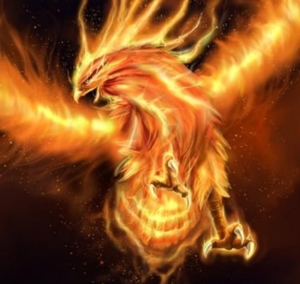 I asked God what this vision meant:
[Daughter, I have allowed this,  for as the fires burn away all this is dead or dying (purging), it gives way for fresh, new growth.] And as soon as He spoke this, I saw rapid growth as if watching a film in rapid fast forward motion. The once desolate land became a lush land of new growth, open to receive the sun (Son) and nourishment from above.
I sensed the Holy Spirit saying, [New assignments have gone out! Times of the past are gone making way for what is new. Be expectant! Be open to receive! Be open to change and things being done or looking different! Do not look back and get stuck in how things used to be or take place. For I am doing something brand new. Do you not see it? I've already begun!
Do not look with natural eyes but with spiritual eyes. Do not fear the fires or mistaken them as utter destruction and the hand of the enemy taking more ground. For I am turning the tides on him and making beauty for ashes! Continue to press into Me. Seek Me how to intercede best and where to direct your prayers. Keep vigilant. Watch for the suddenlies to abound! Watch My Glory shine!]
I'm reminded of the Bible story of Peter walking on the water. When the disciples first saw Jesus walking on the water (something brand new to their natural eyes), they were fearful thinking He was a ghost! Jesus immediately calmed their fears and told them, "It's all right. I am here! Don't be afraid." Peter faced his fear and asked Jesus to call him to step out of the boat (his place of safety and comfort) and come to Him by walking on the water. And Jesus gave Peter an opportunity to be a man of his word and follow Jesus' command to come! And if you're familiar with the story, Peter stepped out of the boat and walked on water towards Jesus until he looked around at the waves and wind around him and became terrified! (Matthew 14:22-34)
The waves and wind are going to swarm around us, so it is vital to keep our eyes on Jesus at all times! Friends, this is an unprecedented time in history! From prophets to pastors, many are declaring that 2017 is "A Year of Breakthrough!" And sometimes in order for breakthrough, what was once there needs to be removed, purged for new growth, whether it's an old system of doing things, familiar way of looking at things, or hard stance in personal opinion. It can get messy and not look like a good thing at the moment. I know for me, if I don't remain steadfast and perseverant, I can easily get fearful and anxious seeing all of the problems around us. But God is calling us to seek Him, see from His perspective through spiritual eyes and not natural ones, pray, put our trust in Him alone and have faith!
"Do not fear, for I have redeemed you; I have summoned you by name; you are mine…Forget the former things; do not dwell on the past. See, I am doing a new thing! Now it springs up; do you not perceive it?" (Isaiah 43: 1,18-19)